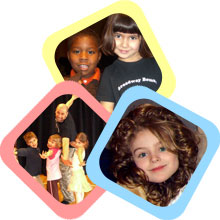 CLASSES
All of our classes are customized to meet the diverse needs of the students. Each class meets once a week and focuses on a different Performing Art discipline. Shows, routines and scenes are collaborations between our professional teaching artists and their students. Diverse material from popular shows is often combined with material newly created by the students themselves. Classes culminate in a live group performance.
Guest Stars
We occasionally have special Broadway Stars join us for a very memorable experience!! We also offer special Saturday master classes several times a year.
Design Your Own Class
Do you want a class that incorporates yoga and singing? How about a dance class that covers Jazz, African and Swing? We want to help you create a class as unique, positive and fun as your kids.
Acting
Actors Workshop
Improvisation
Audition Technique
Scene Study
Stage Combat
Stage Make-up
Music
Vocal Technique
Private Instruction
(guitar, piano, violin, voice)
Musical Theater
Songwriting
Dance & Movement
Jazz, Hip-Hop, Modern, Ballet,
African, Step, Yoga, Theater Dance,
NIA, Tap
Specialty Classes
Step, Stomp, Rhythm & Rhyme

In this exciting new class students will learn all about rhythm and rhyming while creating music with their bodies, voices and everyday objects. They will combine super cool dance moves with stepping and stomping to create their own dances. Some of the routines will be set to music and others will be combined with rhymes they make up themselves. Students will also make some of their own musical instruments to use in the show on the last day of class!

Mix-it-Up Dance

This exciting class covers jazz, ballet and hip-hop. Students will learn moves from Broadway Shows and make up their own routines to their favorite songs.

Musical Theater

Students learn all about singing, dancing and acting in this popular class. We play acting and improv games, improve our voices and even make up our own dance steps and scripts.

Mini-Musicals

This is our advanced musical theater class for 3rd-6th grades. At the end of the semester the students put on a 15-30 minute musical.

Dance Around the World

In this class students will explore a new country and a new form of dance every two weeks. Kids can go from dancing along to drums in Africa one week to dancing with scarves and fans in China the next week.

NIA

Through movement we find health! NIA incorporates martial arts, jazz, modern, Duncan and yoga into one SUPER FUN class!! You will learn all about different forms of movement as well as the different ways in which our bodies can bend and move. We will also learn about agility, stability, strength and flexibility. We will dance to cool music and even use ribbons and other fun props.